Counter Drone Airports – The Drone Evolution
Counter Drone Airports.  All over the world, the growth in numbers of drones and their capabilities has created gaps in safety and security.  Drones can fly for 30 minutes, operate at varying heights, approach from any direction, and technology allows the pilot to avoid detection by operating up to 7km from its take-off point.
The Threat to the Aviation Safety
Drones operating around aerodromes, and in particular approach and departure paths, are increasingly becoming a real threat to the safety of commercial aviation.
Whilst birds have always been a threat to aircraft and hazardous around airports, studies of bird migration patterns have enabled airports to manage that threat.  However, drones are unpredictable with unknown intentions.
If a aircraft wing struck a drone it would most probably cause damage but would not effect the flight of the aircraft. However, a drone striking an aircraft windscreen, or a helicopter rotor, or being ingested into an aircraft engine, could have a far more significant outcome.
Heathrow Airport – Near Miss
The Threat Of Terrorism
There is also the threat of terrorism to aviation.
The National Terrorism Threat Advisory System informs Australians about the likelihood of an act of terrorism occurring in Australia.
The system comprises of a 5 tier scale ranging from not expected to certain as shown in the below diagram.
The National Terrorism Threat Advisory System is currently at   'Probable'.
Therefore it is feasible that terrorists could deliberately fly a drone into an aircraft during the approach or landing or into locations where passengers are boarding aircraft.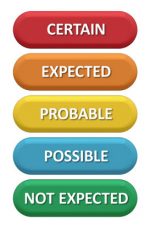 Australian Statistics – Aircraft Close Encounters With Drones
The important point to note is that the below statistics relate to what has been 'reported' (sighted) and not whats actually present.  Without a detection system, you don't know what you don't know.
Australian Statistics Summary 2017/18
Based on the slides, the statistics show:
Most Drone sightings occur:

Sydney 44%
Melbourne 11%
Brisbane 11%

Airlines report most sightings
42% Sighted during the approach phase
Illegal Heights:

85% above 400ft
22% – 5000-9000ft
21% -2000 -4999ft

Saturday & Sunday most sightings
The number of Drone related occurrences in Australia is growing rapidly which presents an emerging and insufficiently understood transport safety risk. Near encounters in the period 2012-2016 of 127 compared to 152 in 2017.
Overseas Incidents and Studies
Incidents on the Rise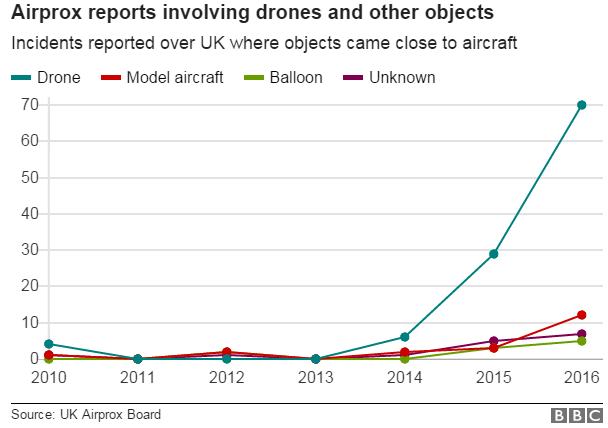 The Threat to Aviation Safety is on the Increase
A study at Bard College in the USA between December 2013 and September 2015, identified 921 incidents involving drones and manned aircraft in which 90% were flying above 400ft, 60% were considered 'close encounters', 17% came within 200ft of the aircraft and 28 incidents required the pilot to manouvre to avoid a collision.
In 2016, Dubai International Airport was closed three times in four months due to unauthorised drone activity.
In April 2017, a drone struck the cockpit windscreen of a British Airways aircraft at 1700ft as it approached Heathrow Airport to land.
In July 2017, Gatwick Airport closed for two separate periods due to drone activity.
The graph highlights the growing threat with a clear spike since 2014.
The Cost of Diversions & Delays
In 2016, unauthorised drone activity at Dubai International Airport resulted in flight diversions at an estimated cost to airports of $1 million per minute. Emirates Airlines stated that …'flight diversions and network disruptions due to unauthorised drone activity…cost emirates airlines millions of dirhams on each occasion, and impacted thousands of passengers'.
In July 2017, illegal drone activity caused four Easyjet aircraft and one British Airways aircraft to be diverted,  and others were forced to abort as they approached Gatwick Airport.
In 2017, the International Air Transport Association (IATA) warned the aviation community of the  'exponential increase in reports of (drones) operating dangerously close to manned aircraft and airports' and the significant financial impacts caused by diversions and delays.
Gatwick Airport Delays – Graphical Display
Example of the Risk – Sydney, Australia. 2017
Example of Local Airspace Incid

ents
Below are some examples of reported close encounters between drones and manned aircraft.  This is not an exhaustive list, there are many more reported incidents and many unreported or undetected.
Australia
New Zealand April 2018
What Are the Solutions?
Whilst many companies say they have the complete solution to this issue, the truth is that the technology is still evolving.
Some companies are closer than others; some offer a single solution and others an integrated one. Some include detection only capabilities whilst other offer detection and counter drone capabilities.
In the Australian domestic environment, the detection capability is 'generally' lawful, but the use of counter drone technology is illegal unless you are a law enforcement agency or a similar legal standing.
Counter Drone Solutions searches and tests capabilities worldwide to ensure we provide our clients with an effective, lawful solution nuanced to your particular needs.
Why Us?
Counter Drone Solutions will act impartially to identify the right product, assess it to ensure it works as expected and as per manufactures specifications, ensure any legal challenges are managed, write your operations manuals, assist with the organisational change process, and train your personnel.
Counter Drone Solutions's key personnel include law enforcement professionals with more than 50 years of combined policing experience, in both operational and management roles, who have been involved in the protection of events and critical infrastructure. The team also includes experienced personnel from the aviation industry, commercial drone sector, legal fraternity, and education, training and organisational change.
We search worldwide, visit manufactures, conduct testing and attend international conferences to locate the products we consider are relevant, perform as stated and as expected to meet the needs of this industry.  These products are then added to our approved product list and made available to our clients.  Where our approved products do not suit the requirements of an individual client, we continue the search until we find the solution.
Contact us today for the right advice.