The Threat to Prison Security – Counter Drone Prisons
Inmates, criminals, and organised crime syndicates are using drones to deliver contraband into prisons including phones, drugs, weapons, and cigarettes.
Drones simply fly over fixed security measures creating a unique problem for prison management.  Advances in drone technology make the problem more challenging as a drone can fly for 30 minutes, carry varying payloads, operate at varying heights, approach from any direction, and enable the pilot to avoid arrest by operating up to 7km from its launch point.
The drones can also be fitted with cameras that capture high resolution images and videos that could aid criminals to assess prison layouts and tactics to plan illegal activities or aid escape.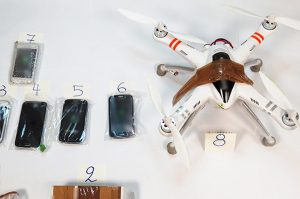 The below videos demonstrate just how easy it is.
The Incidents Are On The Increase
This is not just an issue in Australia, it is a global threat with many reported incidents worldwide as shown in the below examples. This is not an exhaustive list and is just some of the information sourced from the web.
2013 Calhoun Prison (USA)– phone delivered,
2014 South Carolina (USA) – phones, cigarettes, drugs,
2014 Melbourne Remand Centre (Australia) – detected – drugs located in nearby vehicle,
2015 Cumberland MD (USA) – 5-6 drops per month – handgun, drugs, porn,
2015 Goulburn SuperMax Prison NSW (Australia),
2015 High Security Prison in California (USA) phones dropped in – unnoticed for 5 months,
2015 Ohio facility (USA) – drug package – heroin, marijuana, cigarettes – caused a fight between inmates,
2015 Oklahoma (USA) – phones, hacksaw blades, drugs,
2016 Strangeways Prison, UK – 35 incidents reported – drugs, phones,
2017  Finish Prison – phone and drugs,
2017 Western Maryland (USA) – night flights – $6000 per drop,
2017 London (UK) – recorded a drone delivering directly to an prisoners window,
2017 Melbourne (Australia) – planned drug smuggling operation in Australia using drones,
2017 October 26, NSW (Australia) – captured on CCTV for the first time dropping contraband into a maximum security NSW prison. A search of the prisoner located two packages concealed in his clothing that contained 403 steroid capsules,
2018 – Panhandle Prison Florida – drugs delivered,
2018 – South Carolina Maximum Security Prison – dropped wire cutters to aid a prisoners escape.
What Are The Solutions?
Whilst many companies say they have the complete solution to this issue, the truth is that the technology is still evolving.
Some companies are closer than others; some offer a single solution and others an integrated one. Some include detection only capabilities whilst other offer detection and counter drone capabilities.
In the Australian domestic environment, the detection capability is 'generally' lawful, but the use of counter drone technology is illegal unless you are a law enforcement agency or a similar legal standing.
Counter Drone Solutions searches and tests capabilities worldwide to ensure we provide our clients with an effective, lawful solution nuanced to your particular needs.
Why Us?
Counter Drone Solutions will act impartially to identify the right product, assess it to ensure it works as expected and as per manufactures specifications, ensure any legal challenges are managed, write your operations manuals, assist with the organisational change process, and train your personnel.
Counter Drone Solutions's key personnel include law enforcement professionals with more than 50 years of combined policing experience, in both operational and management roles, who have been involved in the protection of events and critical infrastructure. The team also includes experienced personnel from the aviation industry, commercial drone sector, legal fraternity, and education, training and organisational change.
We search worldwide, visit manufactures, conduct testing and attend international conferences to locate the products we consider are relevant, perform as stated and as expected to meet the needs of this industry.  These products are then added to our approved product this and made available to our clients.  Where our approved products do not suit the requirements of an individual client, we continue the search until we find the solution.
Contact us today for the right advice.