Securing Airspace in the Asia Pacific 
A Service and Solutions Provider to the below Industries
Counter Drone Solutions specialises in protecting clients from the threat of drones.
We understand the risks, the importance of securing your assets, and the need to protect your privacy
We have real world experience with multiple operational deployments.
Counter Drone Solutions Provides Services & Solutions in the Asia Pacific
Select Counter Drone Solutions for your next Project
Counter Drone Solutions provides its client's with expert industry advice, consultancy, project management, risk appreciation, turn key solutions, a drone surveillance services, and education and training.  Counter Drone Solutions consultancy is based on the real world experiences of its executive team and we draw upon a diverse global network of talented individuals and organisations to deliver our projects.
Real world experience matters and our Managing Director and network have plenty.  Our Managing Director was the senior project officer for the counter drone capability for the 2018 Commonwealth Games, has 30 years of law enforcement veteran, has commercial drone operator experience which means he understands the tech side of it as well.  The Company won the contract with the Australian Civil Aviation Safety Authority (CASA) to conduct surveillance of Australia's Airports and Restricted Airspace. The company has supported prisons to mitigate the threat of organised crime delivering contraband and compete a number of installations.  Contact us now for your next project.
Managing

 Director John Hildebrand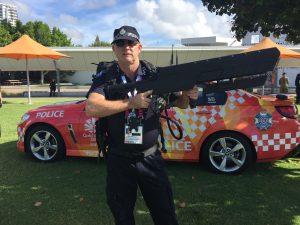 2018 Commonwealth Games
Multiple Reasons For A Drone Detection or Counter Drone Solution
The growth of counter drone (C-UAS) technology is directly related to the mounting concerns about the threat drones pose in both civilian and wartime environments.
Terrorist groups, such as ISIS, have demonstrated how they can use commercial off the shelf drones to guide vehicle born IEDS more accurately towards their targets and how to weaponize them to drop ordnance.  In January 2018, an unknown group launched 12 or so drones in a coordinated attack against two Russian military bases in Syria.  In August 2018, terrorists used two drones packed with explosives in an attempt to assassinate the Venezuela President but were defeated by counter drone technology.  However, the threat of terrorism is only one of the reason why a company or entity would install a drone detection or counter drone solution.
Buyer Beware
Counter drone systems are not without their challenges at the level of performance, practicality, and legality and a lack of common international standards has resulted in a wide variance in the effectiveness and reliability of systems.  The counter drone industry is still maturing as are many of the products currently on offer.  Many manufacturers, their agents and re-sellers will tell you their product is the solution to the threat posed by drones and that the stated specifications of their products are accurate and achievable.  Not all counter drone systems are as effective as advertised and statements like these require rigorous examination.
Drone Detection Solutions
Drone detection systems consist of radars, radio frequency (RF), electro-optical (EO), Infrared (IR), electronic identification and combined sensors.  solutions with sky scan capabilities, and systems designed by the drone manufacturer to identify and track their own systems. 
As this technology is evolving, the challenge is to find a system that meets a client's specific needs, is suitable for the layout of the establishment, environmental circumstances, and most importantly is capable of what some manufacturers or re-seller's state. 
Counter Drone Solutions
Counter drone, or interdiction options, include both kinetic and non-kinetic options.  With the exception of some professional drone net systems with appropriate procedures, the majority of kinetic systems are not suitable for a domestic environment due to the risks these pose.
Non-kinetic counter drone detection systems consist of radio frequency (RF) Jammers, GNSS (GPS) jammers, protocol manipulation systems (spoofing) and combined interdiction elements such as RF and GPS. There are some legal challenges with the use of counter drone technologies and it is important that a client understand these before making any decision to purchase a product.
Integrated Detection and Counter Drone Solutions
A single detection and counter option is not an effective or complete solution as the different types of technology have their strengths and weaknesses.  Therefore, an integrated multiple sensor system is the optimum solution and provides a greater likelihood of success as the weaknesses of one system is negated by the strengths of others. 
The right technology is only as good as the systems and protocols that support it.  Counter Drone Solutions can assist you with this.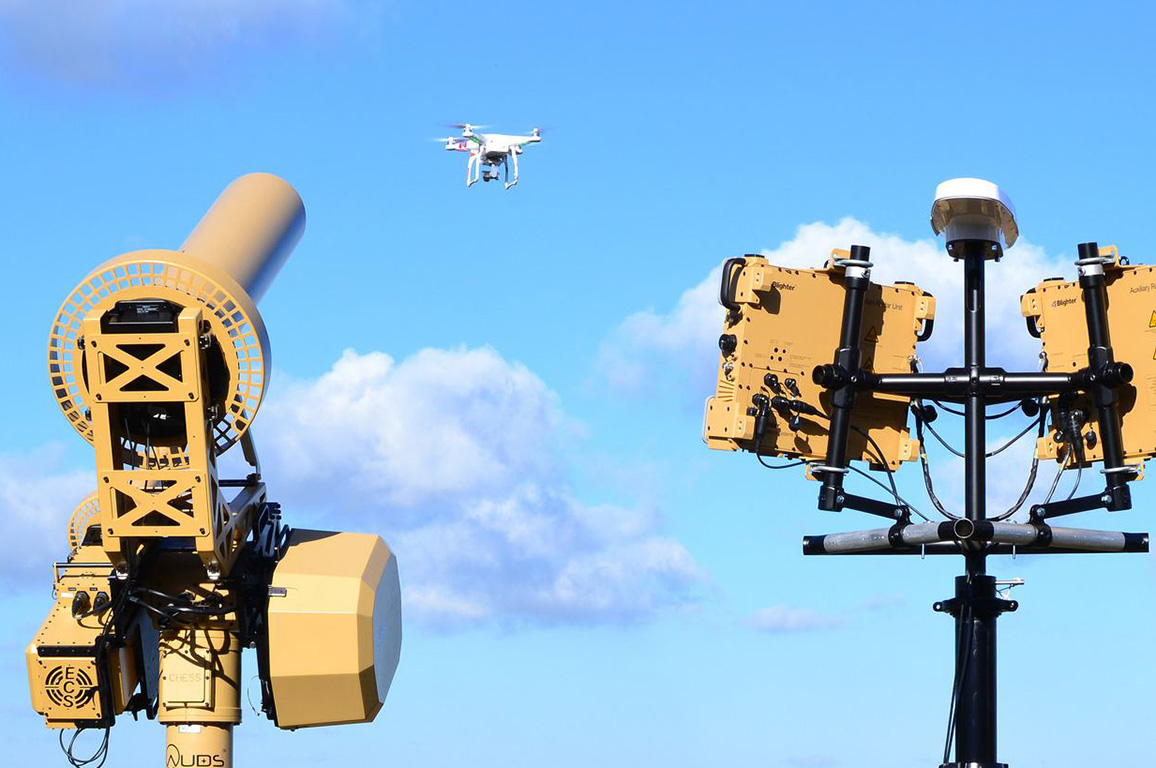 Counter Drone Airports
Drones operating around aerodromes, and in particular approach and departure paths, are increasingly becoming a real threat to the safety of commercial aviation. Major disruptions have already occurred at some of the worlds largest airports due to drone incursion at a cost of millions of dollars to the industry.  
The threat posed by drones is not limited to aircraft, airports themselves are attractive targets due to the concentration of passengers and the high profile of attacks on aviation infrastructure.  Drones can be used for reconnaissance, attack coordination and the delivery of contraband into sterile areas.
Counter Drone Prisons
Inmates, criminals, and organised crime syndicates are increasingly using drones to deliver contraband into prisons including phones, drugs, weapons, and cigarettes.  Drones simply fly over fixed security measures to deliver their payload and depart, often without being detected at all.  This is presenting a  unique problem for prison management requiring a sophisticated solution.
Counter Drone Events
Drones are already being utilised by terrorist organisations to attack both military and civilian targets.   Places of mass gathering are the desired target for terrorists and this is the challenge for event organisers and security providers. Even the less sinister use of drones can cause considerable disruption to major events with obvious financial and reputational costs to stakeholders.
Counter Drone Infrastructure
The worldwide proliferation of drones and their increasing capabilities has created gaps in safety and security. Drones have the ability to bypass fixed security measures simply by overflying them, permitting access to key infrastructure inside or outside your perimeter. Drones can cause damage or disruption to communication, transmission and distribution networks whether by accident, malicious act or terrorism.
Counter Drone Ports – Counter Drone Marine
The shipping industry is vulnerable to drones whether by terrorism attack, the delivery of contraband, or nuisance and ignorant operators that fly drones in a manner that poses a risk to passenger, crew or port staff.  A cruise ship is most at risk whilst in port with large numbers of passengers are embarking is disembarking the ship. An additional layers of complexity is encountered when utilising counter drone technologies in foreign countries. To manage and mitigate this risk,  a counter drone should be considered by port owners and ship operators.
Marina owners also need to consider the risk and reputational damage posed by nuisance and paparazzi operator's flying drones in and around marina invading the privacy of VIPs and celebrities.
Counter Drone Superyachts
Superyacht owners, crews and guests are vulnerable to the threat posed by drones.  The threat could be nefarious, paparazzi, or nuisance in nature and without a detect or defeat solution, a drone will approach unnoticed and bypass fixed security measures. Drone technology permits a drone operator to have a large standoff distance which allows them to avoid detection and modern camera payloads allow them to zoom in and capture imagery without being detected.   To safeguard your privacy, protect individuals, and defend your assets,  a counter drone solution is required.
Counter Drone Celebrities, VIPs & Privacy
Paparazzi are utilising drones to compromise the privacy of celebrities and VIPs at locations such as private homes, luxury resorts and vessels.