DJI Aeroscope Drone Detection System
Detect, identify, locate & track, 70-80% of the civilian drone market with one system.
***** As of March 2023 – There is NO stock of this product available *****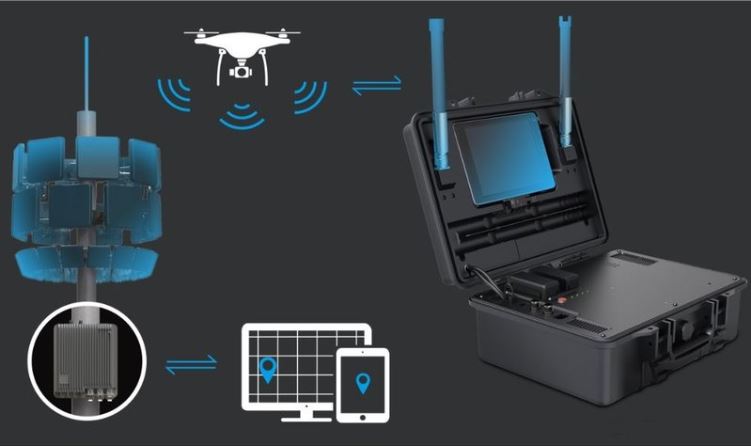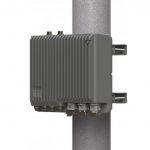 Stationary System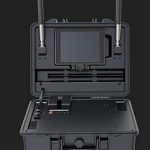 Mobile System
Counter Drone Solutions has an established relationship with DJI which provides access to the latest products.
What is DJI Aeroscope and what are the Two Versions?
DJI Aeroscope will detect, locate, identify, and track all drones manufactured by DJI which makes up 80% of the civilian drone market in Australia and 70% of the worldwide market. It does this by intercepting the communications link between a DJI drone and its remote controller, and provides real-time identification information.
The stationary Aeroscope system is designed to be installed at facilities such as airports, prisons, stadiums and critical infrastructure.  It has a range of 7km to 50km depending on the model chosen.  Is designed to work with the software interface cloud which provides excellent situational awareness, alarming and reporting capability, and can be hosted on the cloud or on a local server.
The mobile Aeroscope system is designed to be fast to deploy and is ideal for mobile patrols.  It is self contained in a case, battery power, fitted with omni-directional antennas, has a range of about 5km, and is designed to work off network.
Benefits of DJI Aeroscope
Detects 70-80% of the drone market at a very cost effective price.
Provides real time detection information including:
Drone location on a map,
Drone latitude and longitude,
Drone model,
Drone height,
Drone speed,
Drone track,
Drone serial number,
Drone takeoff location,
Elapsed flight time,
Drone controller's (Pilot) location.
Stationary Unit Specifications
Model
AS-F1800
Ingress Protection Rating
IP65
Lightning Rating
IEC61000-4-5 6KV
Electromagnetic Compatibility
This equipment meets electromagnetic compatibility requirements and also meets below criteria:
Europe:
EN 55032: 2015
EN 55024: 2010+A1:2015
EN 61000-3-2: 2014
EN 61000-3-3: 2013
United States:
47 CFR Part 15, Subpart B:2016
Power Consumption *
Approx. 70W
Input Voltage
Voltage range: 100V AC ~ 240V AC
Operating Temperature
-30°C to +50°C (without solar radiation)
'-30°C to +45°C (with solar radiation)
Relative Humidity
5% RH ~ 100% RH
Absolute Humidity
1 g/m3 ~ 30 g/m3
Atmospheric Pressure
70 kPa ~ 106 kPa
Dimensions
310 mm(H) × 260 mm (W)× 100 mm (D)
Weight
6.8 kg
Support Aircraft
Phantom series
Inspire series
Mavic series
Spark series
Mobile Unit Specifications
Model
AS-P1800
Ingress Protection Rating
IP54(Folded)
Electromagnetic Compatibility
EN 55032: 2015
EN 55024: 2010+A1:2015
EN 61000-3-2: 2014
EN 61000-3-3: 2013
United States:
47 CFR Part 15, Subpart B:2016
Power Consumption *
Approx. 70W
Input Voltage
Voltage range: 100V AC ~ 240V AC
Operating Temperature Range
-4° to 104° F (-20° to 40° C)
Recommended Storage Temperature
71.6° to 86° F (22°C to 30° C)
Relative Humidity
5% to 100%
Absolute Humidity
1 g/m3 to 30 g/m3
Atmospheric Pressure
70 kPa to 106 kPa
Dimensions (without the Antennas)
405 mm (D) X 327 mm (W) X 175 mm (H)
Weight
8.5 kg
Supported Aircraft
Phantom series
Inspire series
Mavic series
Spark series
Battery-Model
TB50-4280mAh-22.8V
Battery-Capacity
4280 mAh
DJI Aeroscope Stationary Unit in the Field