DroneShield DroneSentry
Autonomous Integrated Drone Detection & Countermeasure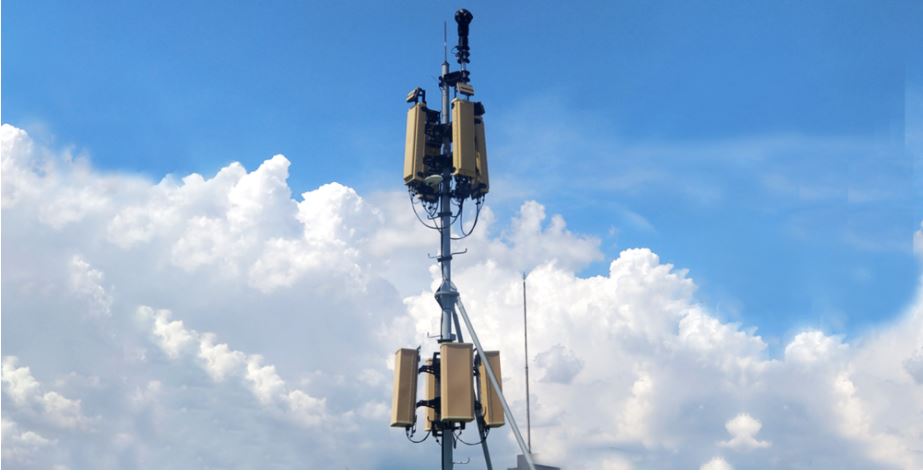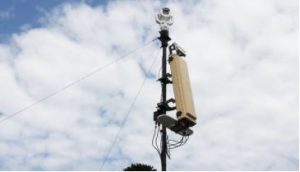 Sensors & Emitters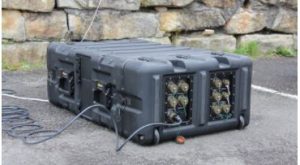 Edge Processor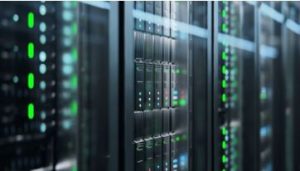 System Processor
What is the DroneShield DroneSentry
DroneSentry is an autonomous fixed C-UxS system that integrates DroneShield's suite of sensors and countermeasures into a unified responsive platform. DroneSentry correlates situational data that provide maximum situational awareness for automatic identification and response to drone intrusions or threats.
DroneSentry's Detection Suite Includes:
Radar,
RfOne RF detectors,
DroneOpt cameras,  (can also utilise DroneOptID an AI driven computer vision technology to detect, verify and track drones)
SonarOne (optional) Underwater sensors for threat awareness for ports and vessels
DroneSentry's Mitigation Option:
DroneCannon RF countermeasures to automatically or manually defeat the drone.
DroneSentry can be deployed in permanent or temporary installations. It can operate both as a single system deployment or with multiple systems deployed on site, for RF triangulation and identification capability – suited for large end-to-end site coverage, surveillance and CUAS protection.
Benefits of DroneShield DroneSentry
Integrated Detect & Defeat Solution – Automatically detects and disables incoming UxS threats
Anti-Swarming Capability – Effectively disables multiple incoming drone threats within its effective range
Scalable – Multiple systems deployed on site provide even greater awareness and RF triangulation capabilities.
Modular – Compact slim design allows for effective transport, assembly and maintenance
Durable – Weather-resistant and rugged design protects technology in harsh environment conditions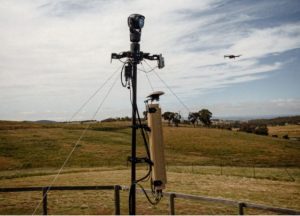 Specifications
Support Hardware & Software
CompassOne – Ruggedised GNSS Navigation and Bearing
SmartHub – Processor
DroneSentry-C2 – Command-and-Control and Digital Twin system
DroneOptID – AI Optical Detection and Identification (Optional)
ComputeNode (Cloud or On-Prem)
*Support Hardware vary depending on site design and network requirements.
Output Options
DroneSentry-C2
IP-based alerts (email, SMS, XML/JSON) indicating zone and any additional sensor evidence
Mobile (SMS, audible phone call)
Radio frequency audible alerts
Communications
Wired ethernet connection
Environment and Installation
System components suitable for permanent or temporary installation
Sensor component mounting platform adaptable to suit installation environment
Elevated mounting platform required for clear lines of sight onto horizon and over area to be monitored
Sensor associated control, PSU and network electronic equipment to be installed indoors close to site or in suitable external weatherproof housing
About DroneShield
Based in Sydney (Australia), Virginia and Washington DC (USA) and London (UK), DroneShield is a worldwide leader in drone security technology. The Company has developed pre-eminent drone security solutions that protect people, organisations and critical infrastructure from intrusion from drones. Its leadership brings world-class expertise in engineering and physics, combined with deep experience in defence, intelligence, and aerospace.
DroneShield responds to the growing use of consumer drones for unethical purposes, and the resulting need for effective countermeasures to drone intrusions. We developed our products with the belief that comprehensive drone protection involves detection and disruption. With DroneShield, they aim to help public and private sector customers take proactive measures against airborne threats to safety, security, and privacy.