Skywall Patrol   Hand Held Drone Capture System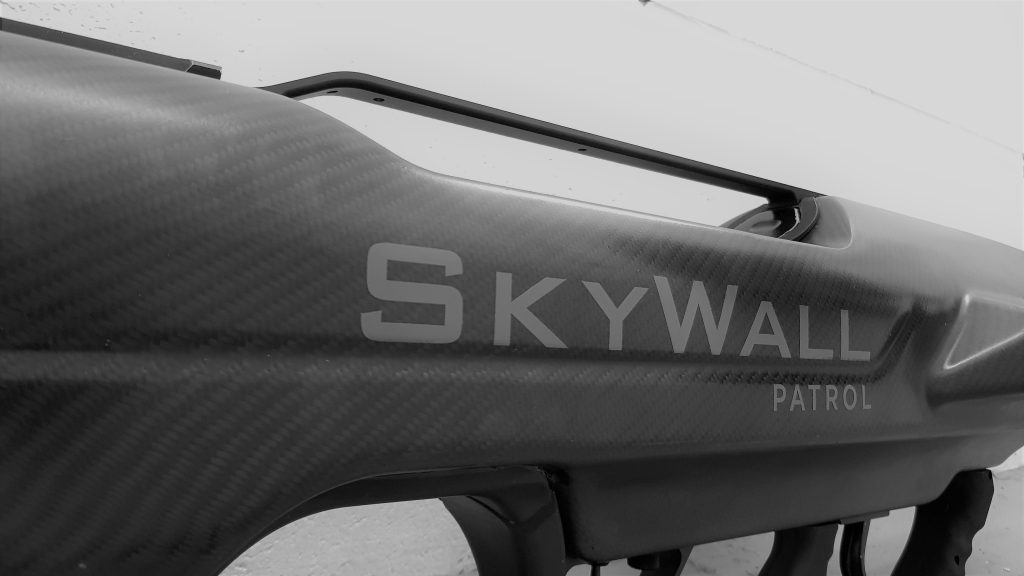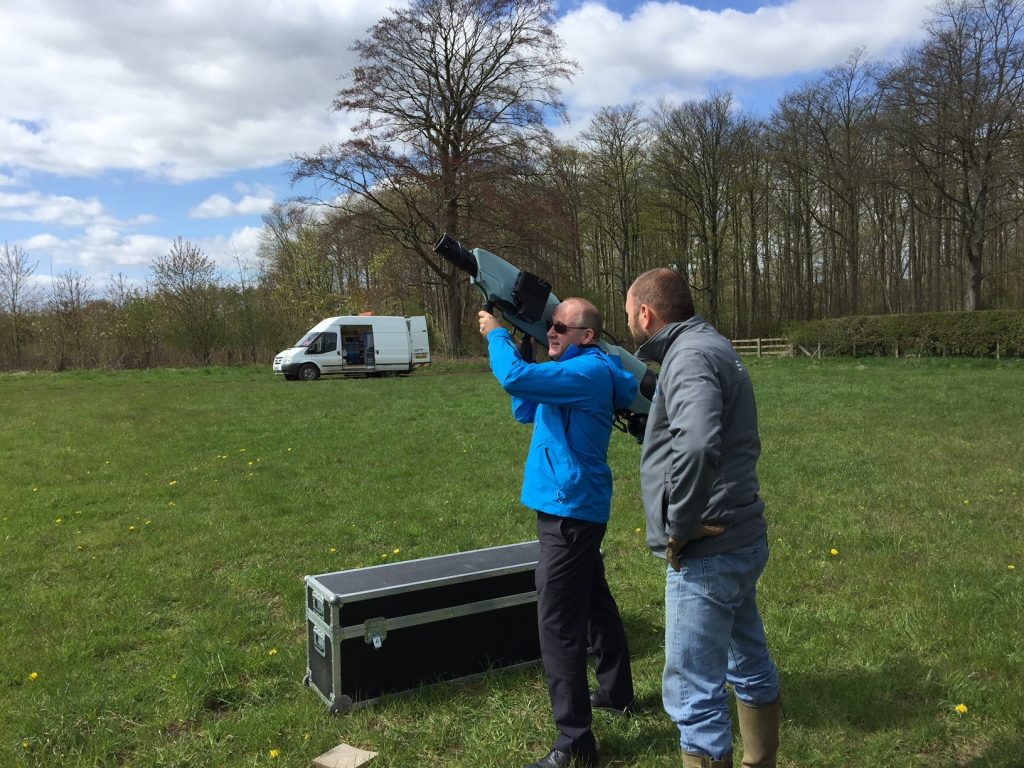 John Hildebrand Training in May 2018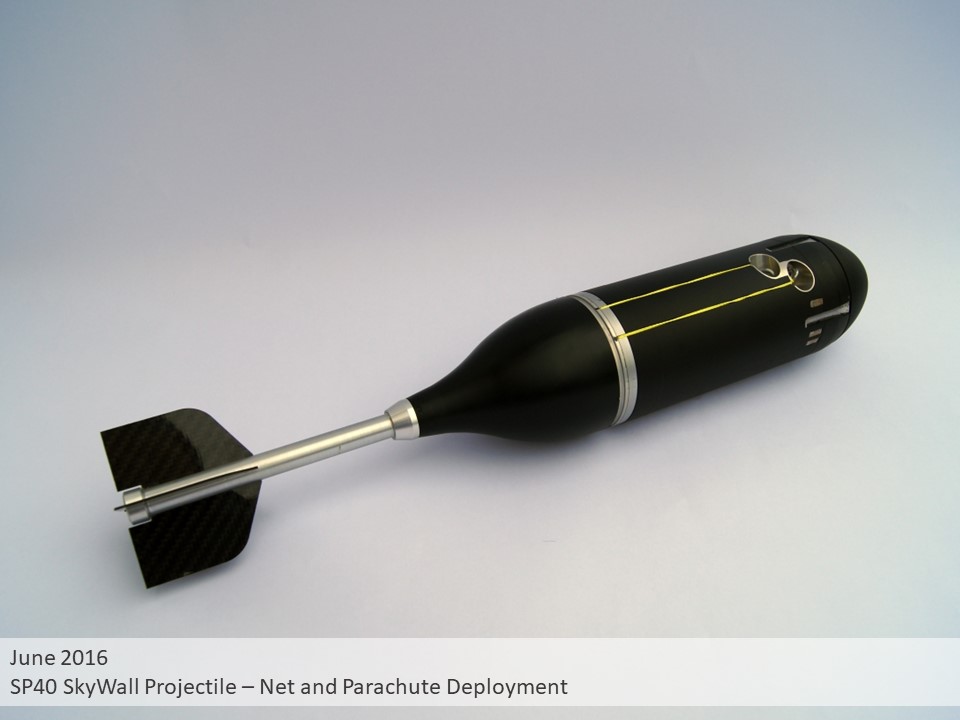 Intelligent Projectile with Net & Parachute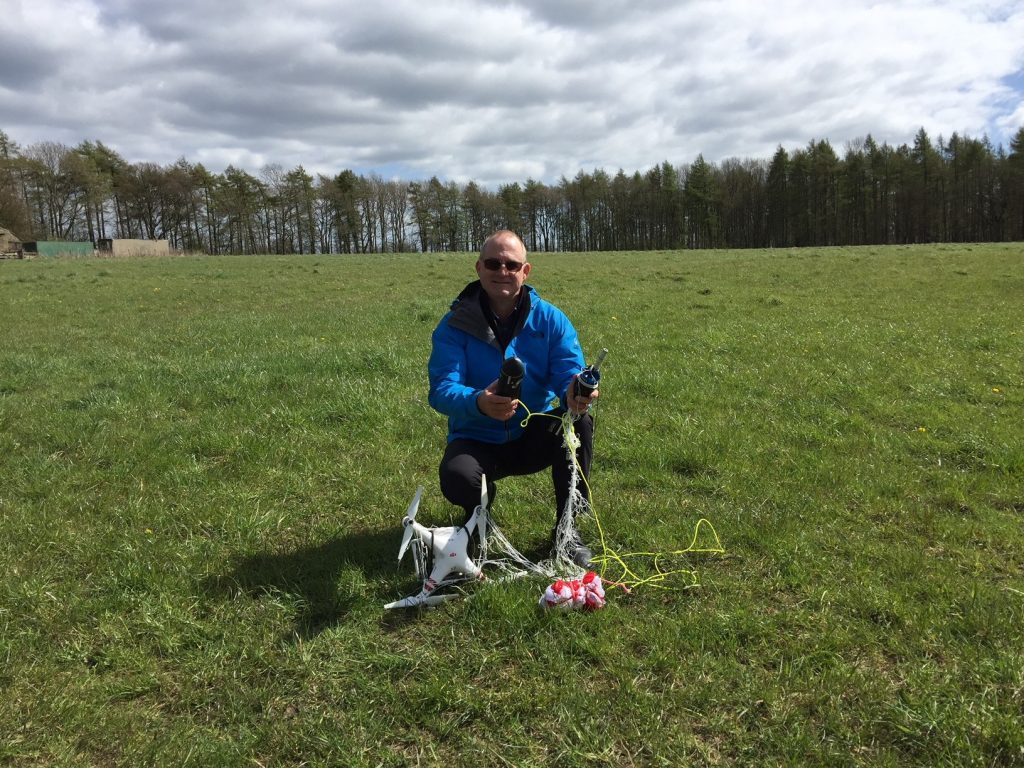 Physically Captured
What is the Skywall Patrol?
The Skywall Patrol, formally known as the Skywall100,  is an alternative solution to the commonly used frequency (RF) jamming technology. Whilst RF jamming solutions are very effective, they have high collateral effects on the wider community, their use is highly regulated, and generally prohibited except for law enforcement and military agencies.
The Skywall Patrol is a kinetic solution that uses compressed air to deploy an intelligent projectile. The intelligent projectile splits in half when in close proximity to the drone and deploys a net to capture it.  Some intelligent projectiles contain a parachute to guide the drone safely to the ground.  The Skywall Patrol is a cost-effective solution that provides a proportionate response to defeat a drone.
The Skywall Patrol can be deployed as a single drone defeat solution or part of a multilevel security overlay eg a radio frequency jammer and the Skywall Patrol could offer both long and short range protection against multiple types of drone threats.  In some circumstances, this type of system could be used as a last line of defence for dignitary protection.
Skywall Patrol is a handheld system that gives a mobile operator the ability to physically capture a drone in a specifically designed 'drone entangling' net. It uses compressed air to launch a projectile up to the drone after the operator has targeted it using the on board SmartScope.
Skywall Patrol can be used as a standalone drone defence system but can also be integrated with a wider security system, using the skylink module, to offer a highly capable counter drone package.
Benefits of Skywall Patrol?
Physical Drone Capture

No electronic countermeasure
Predictable outcome

Proportionate Response

Keeps the captured target intact to allow forensic investigation

Handheld

Highly mobile to allow flexibility during the mission

Low Collateral Risk

Controlled descent using a parachute
All projectile parts remain attached
Targeted counter-measure aiming and release
Skywall Patrol Projectiles
SkyWall projectiles are re-useable and can carry a range of counter measures. The SP40 includes a parachute which controls the descent of a captured drone.
This minimises the risk of any collateral damage and keeps the drone intact. It allows forensic investigation and enables identification of the operator.
If the drone eludes capture, the projectile deploys regardless and controls the safe descent of the tethered components.
Skywall Patrol Projectiles
Skywall Patrol Operational Assessment May 2018
Some images from John Hildebrand's assessment and training on the Skywall Patrol
Skywall Patrol Operational Assessment May 2018
A video of John Hildebrand's capturing a drone with the Skywall Patrol
About OpenWorks Engineering
OpenWorks Engineering is a hi-tech product company developing world-leading security and counter terrorism products. OpenWorks has developed an award winning and innovative drone capture system, named SkyWall.
The system offers government authorities and private security organisations the capability to protect the public, VIPs, prisons and critical national infrastructure from the threats posed by commercially available drones.We are very proud to have supported a large number of high-profile security missions with our SkyWall products, working to mitigate the threats posed by drones at large public events on the national stage.