Eclipse Counter Drone Perimeter Protection
An autonomous end to end cyber solution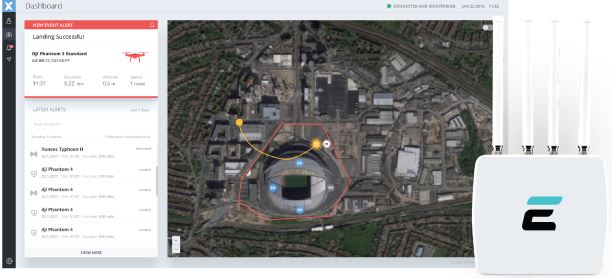 Counter Drone Solutions has an established relationship with Eclipse which provides access to the latest products.
How Eclipse Works
Eclipse uses radio frequency sensors to detect the presence of a drone and determine the drone make and model based with reference to their drone database. Where a RPA is deemed to be a threat, these systems use protocol manipulation techniques to take control of the RPA and land it in a predetermined location.  Protocol manipulation, also known as spoofing, involves manipulating the RPA command protocol by sending it signals and deceiving it to believe that the system is the actual RPA controller. This allows the system to assume the rights of the pilot, take control of it, and counter its current actions.
Eclipse can detect drones that are turned on within the protected perimeter and use protocol manipulation to send signals to the drone that will prevent it from taking off. Where a drone flies into a protected perimeter, the Eclipse system uses protocol manipulation to take over control of the drone and send it to a predefined safe landing location.  Eclipse radio frequency (RF) sensor has an effective range of up to 1.5km, are simple to install with a one cable connection and does not interfere with existing RF signals in the environment. Like all radio frequency (RF) based detection systems, Eclipse maintains a drone database that includes 80% of the consumer drones on the market with new models added every system update.
The Eclipse software interface is intuitive, easy to use, and consists of a full dashboard with incident logging, has easy to establish no-fly zones, can be set to automatically or manually respond to a threat, and integrates into existing systems.
Benefits of the Eclipse System
Up To 1.5 Km Effective Range
One-Cable Connection
Effortless Installation
No Interference with Existing Signals
No Fly Zones, Routing Paths, Landing Locations
Drone Swarm Detection and Mitigation
Whitelist for Authorised Drones
Integratation into VMS Systems
Automated or Manual Takeover
About Eclipse (NGO Group)
Eclipse is a product from the NSO Group who develops best-in-class technology to help government agencies detect and prevent terrorism and crime. There products help licensed government intelligence and law-enforcement agencies lawfully address the most dangerous issues in today's world. NSO's technology has helped prevent terrorism, break up criminal operations, find missing persons, and assist search and rescue teams.