DroneShield DroneSentry – C2
Command and Control Platform – On-Premises or Cloud Based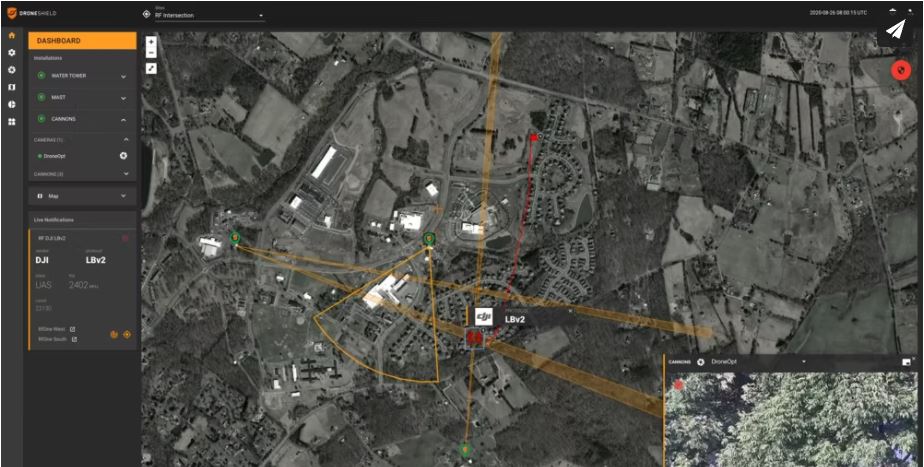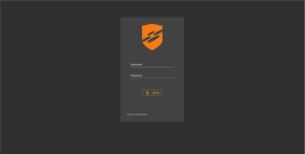 Manage Site Anywhere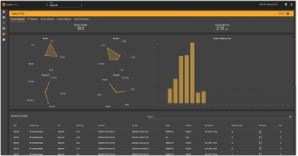 Analytics & Detailed Evidence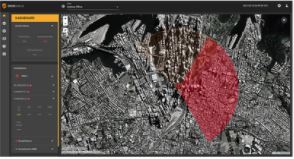 Engage Defeat Capabilities
What is the DroneSentry-C2
DroneSentry-C2 is a Command-and-Control (C2) system with an extensive reporting functionality, which includes a graphic user interface (GUI) that compiles and analyses vast amounts of environmental data to display to user seamlessly and effectively. This dramatically reduces reaction and response times.
The GUI harnesses the advantages of each detection technology, providing the user with an early warning system and growing detection threat level as more data is gathered and processed.
DroneSentry-C2 allows for remote access to DroneShield products to check statuses, configure system settings, monitor threat levels and respond in real-time. The convenient browser-based monitoring application lets you view and control your DroneShield detection and response activity from anywhere.
DroneSentry-C2 enables real time airspace awareness with a low cognitive burden to the system operator. It also acts as a Digital Twin, enabling virtual representation of the system's physical sensor and effector assets, digitally overlayed to the required facilities, and providing simulation and training environment. It provides elements and dynamics of the system through its lifecycle to the end user.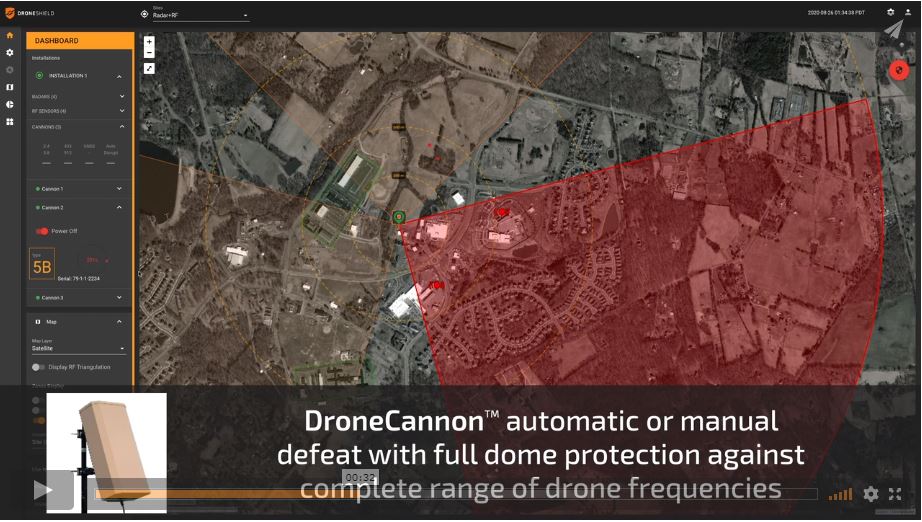 Benefits & Features of DroneSentry-C2
Scalable & Flexible: Platform is built to scale horizontally and vertically, on-premise or on cloud options are available. Can be used for single multi-sensor sites or several multi-sensor nodes working together.
Immediate Evidence Collection: Displays live UAS (e.g. drone) activity, providing alerts to the user about the environment, inbuilt tools for detailed, precise report generation.
Convenient: Can be accessed and configured remotely from a web browser, wherever there is Internet connectivity or as standalone desktop application. Air-gapped solutions also available. Alerts are configured through the GUI to send via SMS or Email for remote operators.
Compatible: RESTful API allows easy integration into existing security systems.
Manage the Site from Anywhere: Secure cloud-based processing allows operators to access their sites from anywhere, anytime. Onsite or 'air-gapped' hardware solutions are also available.
Live Monitoring Dashboard: Live Dashboard allows operators to observe and understand the drone activity around their site immediately. Vast amounts of environmental data is processed and distributed to the operator only when required, in a form that is easy to understand, enabling the operator to make critical and swift decisions.
Geofencing Zones of Control: Detection, disruption and exclusion zones can be set up within DroneShieldComplete allowing the user to establish accurate protection of their facility.
Analytics & Detailed Evidence Collection: Statistics and logs of detections displayed in an easy to read summaries and can be exported for external use. Vendor, location, duration and MAC address of detections are displayed giving the users clear insight into activity within their airspace
Engage Defeat Capabilities:Control and manage threats. Engage DroneCannon sensor disrupt and defeat capabilities.
Digital Twin Planning Tool: Embedded planning tool allows for rapid planning of new site deployments to assess performance capabilities and ensure operational success in a visual real-world mirrored simulation. Existing sites can be saved and replicated into the platform to capture system deployment scenarios over its lifecycle.
MIL-STD-2525 Compliant Mode: Available in a MIL-STD-2525 version with industry leading enterprise features and MIL-STD-2525 compliance. As a sensor agnostic, open architecture platform, DroneSentry-C2 brings advanced interoperability and flexibility to users.
About DroneShield
Based in Sydney (Australia), Virginia and Washington DC (USA) and London (UK), DroneShield is a worldwide leader in drone security technology. The Company has developed pre-eminent drone security solutions that protect people, organisations and critical infrastructure from intrusion from drones. Its leadership brings world-class expertise in engineering and physics, combined with deep experience in defence, intelligence, and aerospace.
DroneShield responds to the growing use of consumer drones for unethical purposes, and the resulting need for effective countermeasures to drone intrusions. We developed our products with the belief that comprehensive drone protection involves detection and disruption. With DroneShield, they aim to help public and private sector customers take proactive measures against airborne threats to safety, security, and privacy.